Raksha Bandhan is a festival of promise which is done by a brother to his sister, by celebrating this festival the brother promises his sister to protect her and take care of her throughout his whole life and the sister prays for the well-being of her bother.
This festival is celebrated by tying an auspicious thread. This thread is called "Rakhi" which is tied by a sister to bother on his right hand. The knot of the thread is considered as the knot of strong bonding of love, responsibility, a promise between brothers and sisters.
The word "Raksha Bandhan" comes from a Sanskrit word. Where "Raksha" means "protect" and "Bandhan" means "to tie".
This auspicious festival is mostly celebrated in the month of august or as per the Hindu calendar it's during the month of Sravana on the full moon day.
How did This Festival Start?
There are many mythological stories behind this festival let's find out where all this began. It is said that in Mahabharata
When Lord Krishna got hurt then Draupadi tore her piece of sari and tied it on lord Krishna's wrist, and in return for Draupadi's kind gesture lord, Krishna promises her to protect her and keep her safe from everything.
Another evidence of Raksha Bandhan was noticed in the story of Rajputana and Mughal in the medieval era When Rani Karnavati was finding it hard to defeat the Sultan of Gujarat, Bahadur Shah. Then to safeguard her territory of Chittor she sends Rakhi to Mughal Emperor Humayun. The Emperor was besieged by the gesture and help Rani Karnavati to protect her kingdom.
 It is said that Rabindranath Tagore in the Bengal partition of 1905 Rabindranath Tagore started celebrating Raksha Bandhan to build up the bond of love and unity between Hindu and Muslims of Bengal. And also to urged them to protest against Britishers. As people in the parts of West Bengal till today not only tie Rakhi to their bother and sisters but also their neighbors and friends. Raksha Bandhan is not only celebrated in India but also celebrated in some parts of Nepal. Raksha Bandhan is just not a festival moreover it is an act to remember their love and responsibility towards others it is the practice of humanity done in different parts of India.  Before Raksha Bandhan's sisters buy beautiful Rakhis and sweets for their brothers and brothers also buy gifts to cherish their sisters.
Read More : Raksha Bandhan 2020, What is Special in This Year?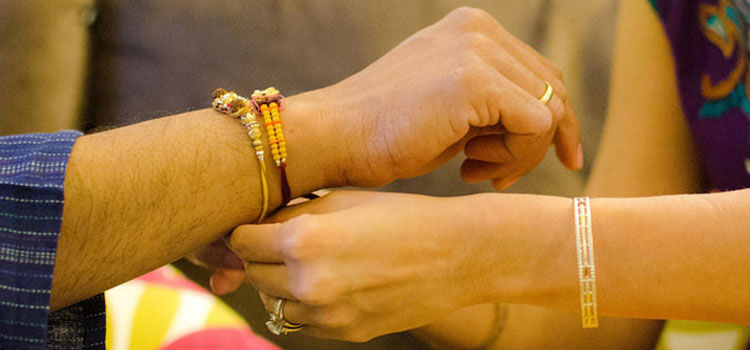 Raksha Bandhan In 2021
Raksha Bandhan in 2021 will be celebrated on Sunday, 22nd August 2021 this year.
Best to Muhurat  Tie Rakhi in 2021
The best Muhurat of Raksha Bandhan or Rakhi this year is between 6:07 AM to 5:59 PM. However, the best time to tie the auspicious thread would be Aparahna Muhurat which is between 1:48 PM to 4:22 PM.
As we are celebrating this beautiful festival for many years by visiting our close ones, friends and family but, because of this virus outbreak and the urge of lockdown brought everything on restriction. But don't worry you can still celebrate this festival with the same enjoyment and enthusiasm. Here are some cool ideas for celebration in this pandemic.  
As we are all locked in our homes still there are many ways to have fun and enjoy this festival let's begin.
Family Cooking Competition
Trying out the new recipes from the internet and each member cooking and make an effort preparing different recipes and announcing the price for the best cook of the day is an interesting and pleasurable way to enjoy any festival.
Family games
Keeping aside all the mobiles and laptops and having fun with some interesting board games with family is a great idea to enjoy anything and any festival.
Entertainment together
Instead of scrolling your phones, creating a family movie show atmosphere with a home theater, popcorn, coke, and pizza and enjoying a movie with all the family members is a most excellent way to have fun.
Recreating Old Memories
On these siblings' festive recreating your old photos and reliving the old memories again is one of the awesome ways to have fun.
Art, Drawing and DIY Competition
As in our childhood days we all use to loved drawing and painting whether we would be good at it or not we use to draw. Create your design, creating new DIY, decorate your home. So this competition is a great idea to relive those childhood days. While playing this is fun as well as relaxing activity in this pandemic.
Playing Games on Video Call
Due to lockdown, we cannot visit anyone's places so instead, there are many interesting and exciting games you can play on a video call with your close once. You can play games like dumb charades, Bingo, Heads Up, Madlips, and many more. This can make your festival a memorable one.
Online Celebration
You celebrate this festival online by sending online Rakhis and gifts to your siblings and also performing the whole ritual on the video call. You can also send surprise gifts to your close ones.
Surprise Food delivery
You can surprise your loved ones by sending them their favorite food without informing them. This will be a great idea to make their festival special
I hope you have liked the above strategy, do try this out and make your festival tremendous with your loved ones.
HAPPY RAKSHA BANDHAN!